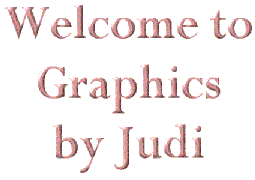 Thank you for visiting Graphics by Judi.

Feel free to browse my site by using the links below. These links will take you to pages with thumbnails of each set. Click on the thumbnail and it will take you to the full page view of that set. While viewing the sets, you can use the Home button to get back to the categories home page as well as the back and the next buttons to move within the categories. The home button on the main category pages can be used to return to this page.

Before using any of these sets on your site, please take the time to read the Terms and Conditions by using the link below.

Terms and Conditions
Background Sets
Angel and Fairy Sets
Background Sets for Children
Victorian Calling Cards
Holiday Sets

If you would like to be notified when additions and changes are made to this site, join my mailing list!!

These pages along with ALL of their contents are Copyrightę 2000 by Judi. Please DO NOT take any of my graphics and call them your own or offer them on your website. These graphics were made by ME using PSP6, Eye Candy and BladePro as well as different fonts ...Tubes used to make graphics were gathered from the net and as far as I know are NOT copyrighted tubes...if you find any of the tubes to be copyrighted...please email me and the graphics will be removed. It is NOT my intent to infringe on anyones copyright!!! Thanks...Judi
Please note when emailing me, remove the ****REMOVETHIS**** from the To address.